(The Gourmet Hash)
A mens hash that run every Monday evening @ 6.15pm
Contact: Sir Botcho-Mobile: 0416 068 419
Website: www.goldcoasthash.org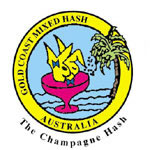 (Champagne Hash)
A mixed hash that run every Wednesday evening @ 6.30pm
Contact: On Sec- Hitchhiker
Mob: 0421 896 253
GM: YFront- Mob: 0408 016 226
A mixed hash that run every Thursday @6.00pm.
Hash Hotline: (07) 33210403 - Message recorded Thursday
Contact: Pubic Hare: 0414208523 M
Soggy 0431367983 M

A mixed hash that run every Monday evening @ 6.30pm (Qld time).
Runs are usually held around Southern Gold Coast and Tweed Heads area.
WE DON'T CARE WHAT STATE YOU'RE IN!
Contact: Wally 0422 954 856
Bushy: 0412 768 988
Real COVID Hash House Harriers
Where too much bush is barely enough
A Men's club that runs Monday at 18.30.
We start from locations in the forest and hinterland 20 minutes from Surfers Paradise. Visitors most welcome. Running through bush we "Run Free and Live" Not impenetrable scrub, unscalable mountains, viruses or bureaucrats will stop us!
Email: gr545gm@gmail.com
Contacts: Tim "Y2kyJelly" Purcell 0466 369 014 Email (click)
Chris "Ballpoint" Schaffer 0499 308 698 Email (click)